Indian food is far more versatile and varying than our local take-away would have us believe. You may think you know your madras from your masala, but have you tried red ants in chutney, or tilli in Pune?
Some of these may seem slightly odd to the Western palate, but Indian food reflects the creative and sometimes downright crazy nature of Indian culture. You cannot help but admire it. We have long been eating worms from the bottom of tequila bottles and skewered scorpions deep-fried and fresh, but do you dare to try snail stew with steamed hornets?
Take a step away from your Tandoori chicken and try something different; after all, the best memories are made outside of your comfort zone. Go on, try it – it probably tastes like chicken.
Snail Stew
If you thought it was just the French with a taste for snails, you'll be surprised at how commonly they are eaten across the globe. From China to Africa, we have been dining down on our shelled friends for centuries. So if you ever find yourself in Nagaland, just close your eyes and take a bite.
Steamed Hornets Larvae and Silkworm Curry
Another Nagaland delight, this dish is actually surprisingly tasty considering it could feature in a bush tucker trial. Nagaland is home to over 15 tribes, each with a gastronomy more unique than the last. You can buy these tasty treats from restaurants and street vendors.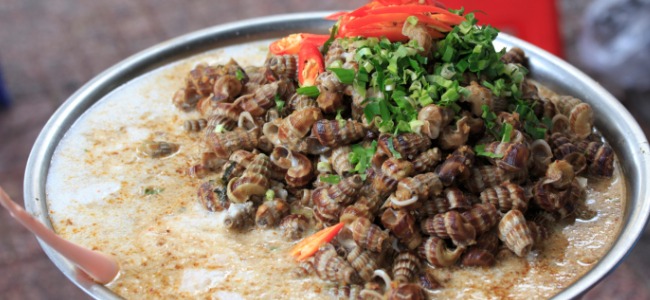 Bhunni
Straight out of the Garhwal region in Uttarakhand, this dish is made with goat's liver, stomach, intestines and blood. Add some spices and voila, you have a nutritious meal that will keep dinner guests talking for months.
Koldil Paro Manghor Jalukia
Assam, the beautiful mountainous region known for its tea groves and stunning scenery, is also home to an odd love for pigeon meat. Now before we rush to conclusions, who else thinks this might be a good solution to British cities' 'rats-with-wings' problem? This dish is made with banana flowers and potatoes and is far friendlier than feeding them toothpaste.
Hilsa Eggs
For fans of Caviar, this is the Bengali version - and unlike others on this list, this is something that everyone should try. Combine red chillies and turmeric with salt and rub mixture all over the eggs. Leave to set for 15 minutes and then gently release the eggs into preheated oil. Try until the eggs are hard and crunchy.
Feeling a little worse for wear? Why not play it safe and head to one of
London's best fine-dining Indian brasseries
instead. Here you can have the best of traditional cuisine merged with modern twists and secret spices. They can promise that there are no ants hiding in your meal (unless you should request it) and the meat is definitely not pigeon.
We may laugh but it is hard to pass comment on what constitutes as strange when we are a country with weird customs like maypole dancing and cheese rolling. Have you watched any Morris dancing recently? Eating pig's brain makes way more sense than that.
Share this